Here's what DH and I spent our weekend doing--painting our living room. I love it. It looks just like coffee ice cream. So much that I just want to lick the walls.
This all started as a plan just to move the television from the family room to the "formal" living room, which was rarely used but is much roomier, with furniture that's in better shape. Then we decided to get a new TV. We went with one of the big LED ones, so it didn't fit in the current entertainment center. So we went to the furniture store to buy a new TV stand. And before I left the store I ended up ordering this set for the living room:
It will be here in about six weeks. So we decided to paint the room before it gets here. Below is the current set, which is kind of great-grandma-ish. It will go in the basement TV room where the kids hang out when the new stuff gets here. The dusty rose (gag) valance I had there before painting is gone now. I loved that so much when we had it done 10 years ago and now I hate it. When the new set gets here I'm sure I'll be posting another photo and asking for advice on a new window treatment.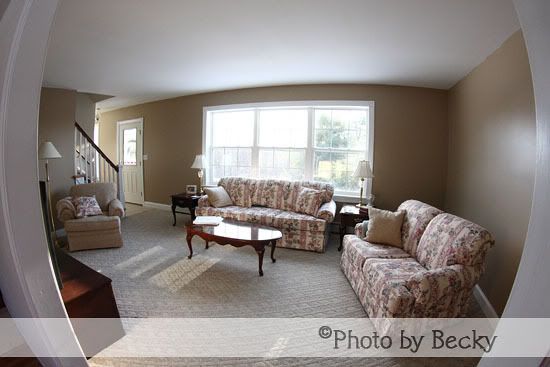 So the project that should have cost $0 has become pretty costly, but I love my new coffee ice cream walls.