I've been in a photo slump lately. Nothing's been inspiring me. Then I noticed in the newspaper that there was going to be a winter festival this weekend, with ice sculpture creations at the local ski area today from 9 to 3. I thought it would be a fun thing to photograph and get me out of the house and lift my spirits. I was expecting all these ice sculptures in the snow with the green of the surrounding pine trees as background.
Yeah, not so much. My friend and I got there at about 10:30 and saw this:
Oh, but wait. There's a sculpture. Lovely background, eh?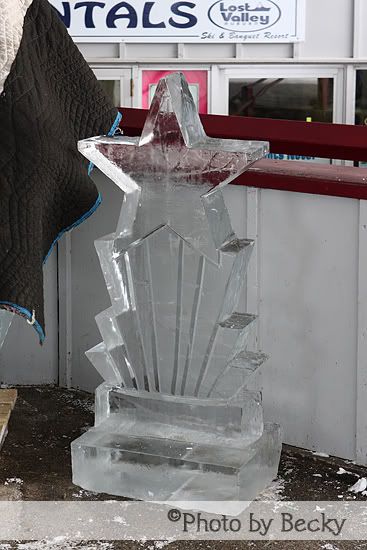 Oh, look, another sculpture...that's exactly like the other one.
There was also this guy. He was pretty cool. But he was behind a wooden barrier so I couldn't get a full unobstructed shot.
And that was it. I wish I'd had the wizard's crystal ball to tell me not to waste my time.
Winter festival: pfffft!