When I posted my sheep photo last week someone commented that it was time for her to lose the winter coat. Today DH and I were driving to DD's softball game and passed the sheep house again. When I spotted her like this, I said, "Wait! She got a haircut! I need a picture!"
As if it's not embarrassing enough for Ms. Sheep to be outside all naked and shaved and vulnerable and having some strange lady point a camera at her when she's just trying to eat some grass in peace, said strange lady with a camera goes and steals the rest of her dignity: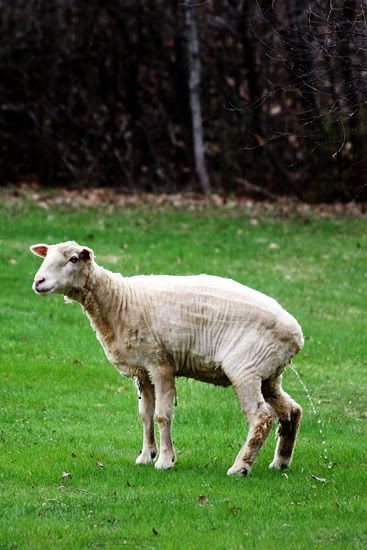 If I believe what goes around comes around, does that mean someday someone will take a photo of me peeing and post it on the internet? Maybe I should just delete. Or I could photoshop it out, but that wouldn't be keeping it real, yo.