A photo (or more) a day from me/from Maine. Because it's both. I took the photo, and I'm in Maine. Although sometimes I leave the state, so the photo might not be from Maine. But it's still from me.
Thursday, April 8, 2010
I decided the dogs needed haircuts since I couldn't see Phoebe's eyes anymore. She was looking disheveled all the time. After their haircuts I thought I'd take them outside to try to get some cute pictures.
That didn't work out so well with The Phoebster.
Post haircut, she's still disheveled all the time. She's no supermodel, but we sure love that little puppy.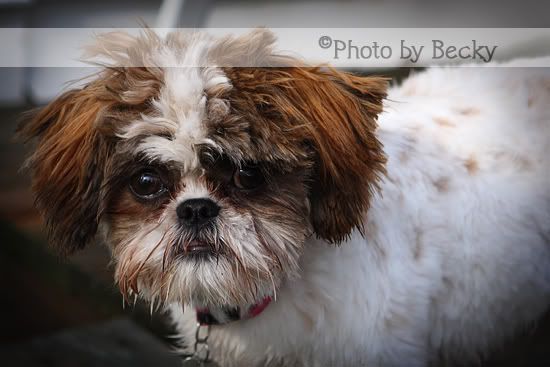 Baxter gave me his best "look how dignified I am" pose. It's a total act. There's nothing dignified about that dog, but he does pull off the look sometimes.
Posted by

Becky
at 7:56 PM
2 comments:

Friday, April 2, 2010
I think I'm busting out of my photo slump, because I've pulled my head out of my...Kindle and am starting to take more photos. I thought I'd capture my orchid one more time before it dies.
Posted by

Becky
at 4:48 PM
No comments: