Hey, I'm feeling much better. Thanks, guys! I don't why it is, but when I get a cold the symptoms themselves don't bother me much, but I have unbelievable fatigue for the first two days. Anyway....
Baxter says hi.
Maybe you didn't hear him. He'll come a little closer.
Doggie smooch!
So here's how I messed with my photo yesterday. I am so NOT a Photoshop guru. It was really very simple. First I turned the photo black and white. I didn't do my own conversion or anything; I just used PS Elements' tool. Then I added this cool texture: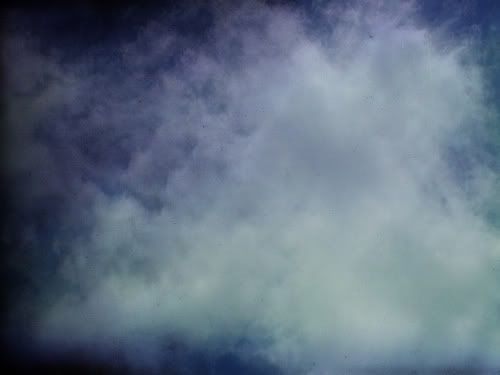 It's "Ominous Clouds" from Ghostbones.
I set this layer on multiply at 100% opacity.
Then I flipped the texture photo (to get the dark part in the lower right) and layered it on my photo again. I set that layer on soft light at 51% opacity.
I added the "moon" by setting my eraser at 8%, setting the brush to the size I wanted it, and just clicking in the same spot a few times until it was the brightness I wanted.
(I discovered that part by accident when I tried to erase some of the texture. Cool, huh? Not as good an accident as discovering penicillin, but whatever.)
That's it.