My tree is definitely not themed. Nothing matches, and the tree is getting really crowded because we get new ornaments every year. Someday I will give my kids all their ornaments to hang on their own trees when they leave the nest. These are a few I have in my Photobucket account.
My SIL gave us this glass pacifier the year my son was born: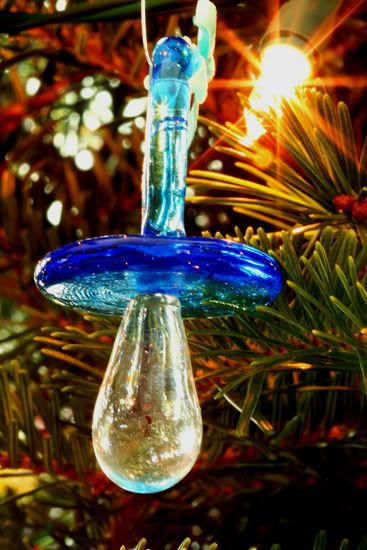 This is from DD's first Christmas:
One of my favorites:
From my mom last year. She doesn't label our presents; she buys each person an ornament and attaches them to our gifts and we all figure out whose is whose. They always fit us perfectly and/or give us a hint to the present inside. My mom is the best.
One of my oldest ornaments (and given to me by my mom when I left the nest). I made it in Brownies when I was little. I call it "Jesus on a half shell."
DS's ornament from my mom last year. It actually plays the Sports Center theme music. Da-na-na! Da-na-na!
And of course we have to have a Red Sox ornament. Okay, we actually have three or four.
I think I have a story for every ornament on my tree. Aren't you glad I only picked seven to show?