My husband participated in the Dempsey Challenge this morning, a bike ride/5K run to raise money for the Patrick Dempsey Center for Cancer Hope and Healing
Dempsey Center
. 3500 participants raised over a million dollars. My husband raised over $1100. Yay for Chris!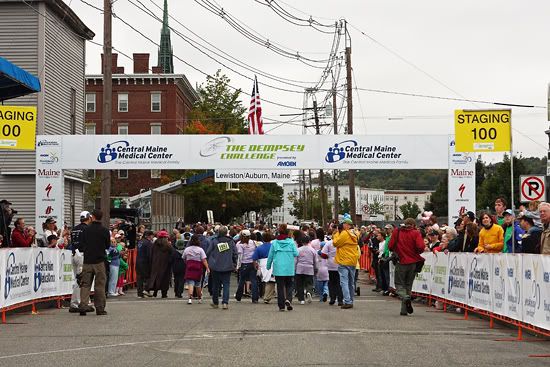 It was so congested I couldn't get anywhere near the start line, where I might have caught a glimpse of Patrick Dempsey, but I was there to support my very own McDreamy:
That was gross, huh? I think I made myself sick.
Just a little side note/story: Dempsey grew up and attended several schools in this part of Maine, and I have several friends who went to school with him at some point or another. I've never met him, but one day a teacher at my kids' school said to me, "So you dated Patrick Dempsey, huh?" She had me confused with one of the other mothers. I told her no, but feel free to spread that rumor as much as she liked.