Over on the 2Peas photography board, there are lots and lots of people using a Knifty Knitter to make hats and other newborn props. Since I know how to knit the traditional way, I mostly ignored all those posts about the Knifty Knitter. But the other day I was in the craft store and decided to buy the baby hat-sized loom and see how I liked it. It really IS nifty!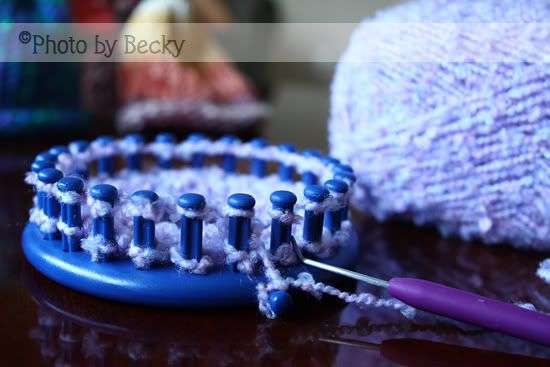 Baby hats are a great way to use up partial skeins of yarn (okay, I actually bought the blue/purple/green yarn seen below because "ooh, pretty!")
I made these four in a day while sitting at the computer editing photos.
I've completed two more since I took these photos this morning. I have two more nieces/nephews due in 2010, and I'm looking forward to plopping these on their heads.